At Norris Point Family Dental Clinic, we are a patient-centred dental team, which means we work with our patients to ensure their individual needs and values guide all clinical decisions. We are here to answer all of your questions and respond to any concerns you may have in order to provide you the most appropriate treatment plan that is realistic and achievable. We look forward to meeting you.
Dr. Sexton was born and raised in St. John's, NL.  She received her BSc. From MUN in 1975. She became Newfoundland's first native born female dentist after she graduated from Dalhousie Dental School in 1980. After graduation Dr. Sexton moved to Norris Point in the heart of Gros Morne National Park. The region had no dentist and hers was the first dental clinic established there. She feels blessed to live in such a beautiful part of her province.
Prior to her arrival, dental care had been provided mainly by doctors and nurses extracting teeth because of infection and pain. Dr. Sexton has seen a major improvement in the region's oral health since opening her clinic in 1980. After 40 years she still loves her work and meeting the needs of her patients.
Dr. Sexton has been very involved in organised dentistry over the years. She spent many years on the Newfoundland Labrador Dental Association's Executive and served twice as President.  She currently sits on the Newfoundland Labrador Dental Board as a board member. Dr. Sexton also puts a lot of her energy into her local community. Over the years she has served as President of the Bonne Bay Development Association, Chair of the Red Ochre Regional Economic Development Board and is presently the Chair of the Bonne Bay Cottage Hospital Heritage Committee. She feels strongly that all dentists should give back to their communities in some way to help make them better places for everyone to live. 
Dr. Sexton is married with two daughters. She is an avid reader, walker, and loves snowshoeing with her husband during the long winters on the Great Northern Peninsula.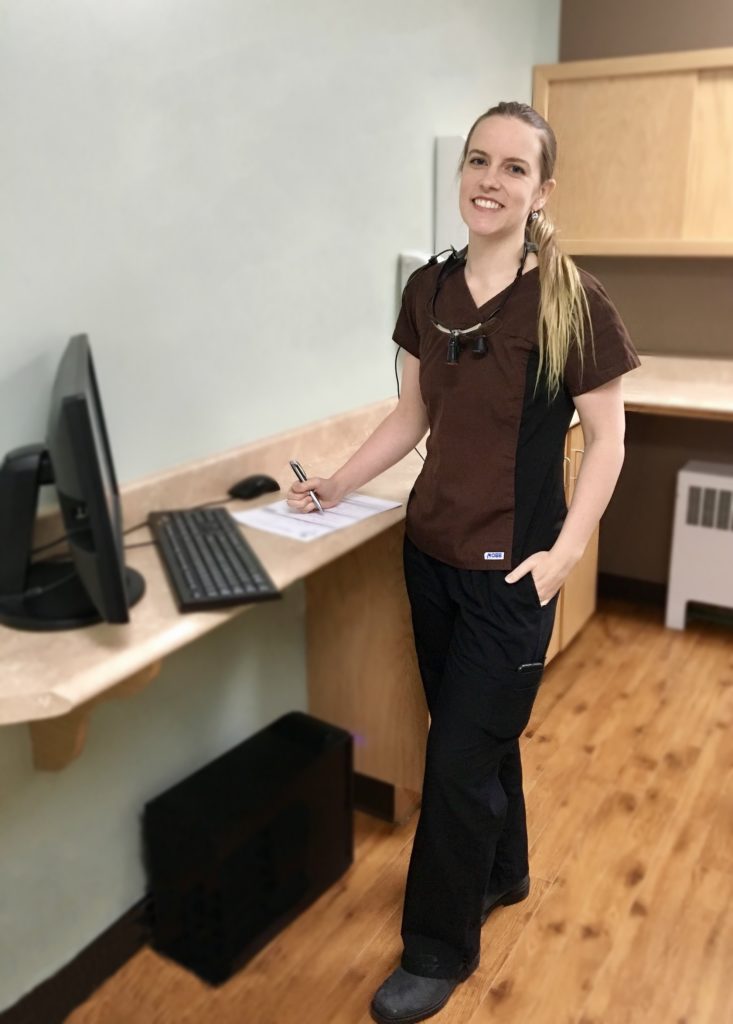 Dr. Willis was born and raised in Charlottetown, PEI and completed her Bachelor of
Science degree with honors at University of Prince Edward Island in 2010. Upon
completion of her science degree, she did four years of graduate school at
University of Prince Edward Island followed by her Doctor of Dental Surgery at
Dalhousie University in 2018. Dr. Willis appreciates being able to make people
proud of their smiles and being able to communicate and interact with patients to
ensure they are happy with their treatment choices. Specific procedures she enjoys
consist of fillings, root canals, crowns/bridges, and extractions. Dr. Willis's hobbies
include playing the saxophone, reading, painting, and exploring the great
outdoors (hiking, canoeing, and camping).
Dr. Ropson was born and raised in Lewisporte, NL and completed his Bachelor of Pharmacy degree at Memorial University of Newfoundland in 2014. He became a graduate of the Doctor of Dental Surgery program at Dalhousie University in 2018. Dr. Ropson enjoys having the opportunity to meet people and provide comfortable and calm treatment to all patients while helping to ease any fears around the dentist. Helping people smile is the best bonus! His hobbies include cooking, gardening, hiking, playing music, cross training, video games, and wearing wild socks!
Glenda Hynes
Ivy May Pelley
Holly Smith